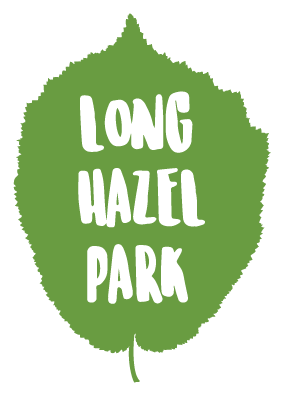 Adult Only Touring Caravan & Camping Park
Self-catering Holiday Lodge Accommodation For hire
Sparkford Somerset
Long Hazel Park is an Adult Only Touring and Lodge Park open all year. We welcome tourists and visitors with their own tents, caravans, motorhomes and RVs. We have two self-catering holiday lodges available for hire.

We are accessed directly off the High Street by our own private two lane road. The park entrance is tarmaced including access to the Reception and shower block facilities. The Reception and shower block are accessed by concrete ramps, with wide doors for wheelchair access and grab rails outside. The remaining roads and hardstandings are formed of compacted gravel and provide a good ground for wheelchairs and mobility scooters.
Our Reception area has a three seater sofa so you can sit down whilst you check in. There is a low level table in the centre of Reception. The flooring is non-slip.
We ask that customers fill out a registration form by hand on arrival. If you would prefer to fill this out before, please let us know and we are happy to email a copy over to you which can be completed as a PDF on screen, or printed and filled out by hand. All customers are personally checked in by Alan or Pamela. If you have booked online, there is no need to fill out a registration form.
Our Reception also houses local tourism information, maps and brochures, as well as information on buses, trains and taxis. We also have a washing machine and dryer for public use and a payphone.
The park is flat, well drained and does not flood. In fact, we are such a flat area that we were once used as the Sparkford football pitch! There are no small roads or tight bends to navigate.
Hardstandings are large, with a grassed area next to each. The central tent pitches are on grass, however, we can site you on a hardstanding if this would be more accessible.
As a small, 3 and a half acre Park, all pitches are close to the central shower block. If you would like to be particularly close to the shower block, please let us know upon booking.
We have a separate accessible wet room in our shower block which is adapted for disabled users and has been entirely renovated for the 2020 season. This is accessed by a ramp, with no step up to the door.
The door has a large swipe sign on the outside to let others know it is vacant or in use. The door frames are wide enough to be accessed by wheelchair or mobility scooter. The door can be locked interally during use and opens outwards.
You do not require a radar key to access these facilities. We provide keys only to customers who require this facility. Please request access to this room when booking or upon arrival. We do not need to know why you require this facility and we understand all disabilities are different and not all disabilities are outwardly visible.
The accessible suite features a lower level sink with a hot and cold lever taps and plug. The mirror over the sink is low enough for wheelchair users, but also high enough for customers who are not in a wheelchair. There is a cushioned assistance stool which can be positioned in front of the sink if you wish. There is an automatic wall mounted soap dispenser and hand towel dispenser.
The WC is slightly raised to assist with seating and has a back rest for comfort. There are grab rails and a wheelchair transfer bar around the WC and there is a large lever flush. There is a wall mounted toilet paper dispenser.
There is a full length wall-mounted mirror and small shelf. Wall hooks are available at both seated and standing height.
The shower is in a slightly sunken shower tray and is accessible by wheelchair. There is a seat available should you need it. There is a wall mounted hairdryer which starts automatically upon movement. There are grab rails in the shower and the flooring is non-slip.
This facility is large enough for a companion to assist if required. The shower is screened by a large shower curtain for privacy. This room is centrally heated which can be turned on or off as necessary and there are two windows which can be opened manually to allow ventilation.
The ladies and gents separate shower block areas are accessed by one step. The flooring in both bathrooms is non-slip tiling. There are two showers in each, with wet-room style showers and gently sloping shower cubicles without trays. There are no steps to access the showers.
Shower cubicles are well-lit and we provide waterproof stools as standard. Showers are behind private, locked doors. There are four toilets in the ladies and two toilets in the gents. There are no steps to access the toilets.
There are three urinals in the gents, with one at a lower height. There are four wash basins in each gendered bathroom with hot and cold push taps. One wash hand basin is screened in the ladies bathroom.
Soap dispensers are used by a push button and there is a large seating bench in the ladies communal area. Both bathrooms have hand driers and full length mirrors, as well as mirrors over each individual sink. The facilities are all centrally heated.
Dishwashing and chemical disposal areas are in the shower block and are both accessed by one step.
We have installed 11 new fully serviced pitches, which all have access to a water point and drain. Other water points are situated around the park in accessible locations.
All hardstanding pitches have 16 amp electric hook-up points. All pitches are level. The gravel is small and tightly compacted.
Parking is situated directly on or next to your pitch. We do not require display of a blue badge to park on pitches closest to the shower block, or for any parking around the Park. We ask that all awnings are situated on gravel.
Tent pitches are well drained, with short grass and are partly screened by trees. Parking is situated nearby. If you require parking directly outside your tent, please ask upon booking or upon arrival (where possible).

We have many picnic tables situated around the Park in full sun and shaded spots. There are benches situated outside Reception and the shower block.
We have a wheelchair accessible picnic table which we are able to move to your pitch if you require this. This has a longer bench top so that a wheelchair can be put underneath the table.
As an adult only park, we find that our customers are very accepting of disabilities and conditions and we have personal experience as a family of providing for a family member with a fluctuating, invisible disability.
Our customers with disabilities often tell us that we have successfully provided a peaceful, safe haven during their stay. We regularly welcome families with older children (18+) with learning disabilities and the Park itself is well enclosed with fences and mature hedges.
We take the safety of our customers very seriously and there is a 5 mph speed limit throughout the Park. Signage on the Park is large and clear. We lock our main gates at night with a combination padlock but access for pedestrians, cycles, motorcycles and wheelchairs is available at all times.
We ask that all dogs are kept on a lead at all times.
Assistance dogs are welcome on the Park and there are dog walks outside of the Park. We are happy to help tailor local dog walks to your needs.
At night the area around Reception and the shower block is well lit and low level general lighting is provided around the rest of the Park.
The local village inn is 100 yards from our Park along a pavement with dipped curbs. The Hazlegrove Services are 400 yards away where there is a 24 hour Londis shop, Esso garage and a McDonalds with two ATM machines.
To help with access requirements, we also allow all major supermarkets to deliver to our Park, along with daily deliveries from our local bakery, deliveries from local cafes and pubs and pizza cooked on site on Friday nights.
There is a bus stop 100 yards from our Park with access to Yeovil, Castle Cary and Shepton Mallet. The nearest train station is Castle Cary and you will need to ring ahead to book assistance should you require this.
In 2020, we added a new Online Reception to our website which we have found has been very helpful for our customers with extra accessibility requirements. This means you are now able to access all information available in our Reception from the comfort of your own caravan, motorhome, tent or lodge.
If you require medical assistance during your stay, our local doctor is situated a mile and a half away at Queen Camel and do have emergency appointments. There is a Boots Chemist in Castle Cary, 4 miles away. Yeovil and Wincanton both have hospitals with A&E departments and are both 7 miles away. We have ample room for ambulances and are always on site to assist.
Many local attractions are rated on Euan's Guide for accessibility. In particular, our two local museums, Haynes Motor Museum at Sparkford and the Fleet Air Arm Museum at Yeovilton are highly ranked for accessibility. We would also recommend a visit to Hauser and Wirth at Bruton, which is wheelchair accessible and all on one level, with beautiful gardens and galleries.
SELF-CATERING ACCOMMODATION
We have a purpose-built, double glazed, well insulated and fully heated hand-built holiday Lodge for hire which is fully accessible for wheelchair users and carers. This holiday lodge is available for hire all year round.
The lodge is accessed by ramps and all doors are wheelchair accessible. Parking is directly next to this holiday lodge and there are no nearby restrictions for car access.
This unit sleeps up to four adults and has a large bedroom with two large single beds, accessed through the middle of the room for wheelchair access. The beds can be pushed together if needed. The beds are at a slightly higher level than normal to assist with access. There are two fitted wardrobes with low level rails and coathangers. There is a vanity table with wheelchair access in the bedroom. There is a full length mirror behind the door.
The lounge seating is at a slightly higher height than a normal sofa to allow for easy access or transfer from a wheelchair. This adjusts to form a further king size double bed. There is wheelchair access to the sink and the cooking facilities. The dining table can be used by wheelchair users.
There is a large bathroom with a low access shower with bi-fold doors and removable shower stool, wash-hand basin and WC. The flooring is non-slip coated throughout. Grab rails are positioned throughout the bathroom and there is a wheelchair transfer bar next to the WC.
The basin is slightly lower for seated access, with level taps and a plug. There is a mirror which is visible when both seated and standing. There is a small shelf for storage and two small cupboards with shelves. There is also a high backed chair with storage underneath.
The accommodation is accessed via ramps and a there is a spacious decking area. Light pulls and switches are at a low level throughout the accommodation. There is an electric point which can be used to charge electric wheelchairs outside.
As a general rule we do not permit dogs in our self-catering accommodation except guide dogs for the visually impaired or specially trained assistance dogs.

Don't just take our word for it - our customers love our facilities too:
​
"Would thoroughly recommend. Rented Blackforest Lodge for 3 nights, took my elderly disabled Mum to see her Grandson who lives a few miles away from the park. The accommodation was perfect for her needs and easily accessible for the wheelchair. Hosts Alan and Pamela were extremely helpful, all in all couldn't have asked for more." - Ali C, August 2022
​
"Beautifully kept site well manicured grass area, spotless toilet facilities, excellent disabled toilet facility." - Bryan Sansom, May 2022
​
"This is our first visit to this campsite. It is an adults only site, very quiet though near the A303, close to a well stocked shop and a couple of pubs. It is very clean and extremely well organised with excellent disabled facilities. Now our go-to campsite when in the area!" - Peter Jones, March 2022
​
"We recently stayed at Long Hazel Park for two weeks in our motorhome. We cannot believe that we chose such a fantastic park. The recently renovated shower block is so clean, well lit and warm. I myself am disabled and I used the accessible suite and found it suited my needs perfectly. It is a wet room and had plenty of mirrors so that I could do my make up with a large full length mirror so that I could see myself in my new outfit for a wedding we were attending nearby. We will definitely be returning in the not too distant future as we found the park so convenient to visit lots of attractions in the area. Bruton for us was one of the highlights with the Hauser and Wirth gallery and restaurant. As National Trust members we also visited lots of houses and gardens that are close by including Montacute House and Stourhead. There are several very nice pubs nearby serving food so we found ourselves going out most evenings. Thank you again Alan and Pam and we will see you again very soon!" - Jim and Sue Thurston, 2019
"This is a truly beautiful site. Well laid out, faultlessly maintained, and spotless throughout. The washing facilities are spotless, and the disabled facilities make life so easy you almost forget you're disabled." - Dave Simpson, August 2019
"Spent the weekend in the Black Forest cabin, specially adapted for persons with disabilities. It is absolutely perfect for anyone with limited mobility/wheelchair user. Nothing was too much trouble for hosts Alan & Pam. Highly recommended!!" - Reg Cranton, August 2018
"What a lovely site! Alan and Pam are so helpful and the site itself is immaculate. It is adults only, dog friendly, spotless facilities and an excellent disabled washroom." - Pat Kirkwood, September 2019
"Much improved accessible wet room - upgraded and now presents to an excellent standard" - VisitEngland 5* Inspection, September 2021
"Well planned en-suite facilities for visitors with disabilities." - Alan Rogers Inspection Guide
Local taxi companies:
Craigs Taxi, Sparkford 07563612473 (wheelchair accessible van)
Mum's Taxi, South Cadbury 01963441121
DB Cars, Castle Cary 01963351031
Please advise them of your needs when booking a taxi
Wheelchairs and mobility scooters are available at A2B Mobility at Units 1 and 2, Great Western Road, Martock, Somerset TA12 6HB 0800731 7078
We support the MS Society
Updated 1 June 2022
Please contact Pamela Walton on 01963 440002 or longhazelpark@hotmail.com for any further help
We have completed a Tourism For All - Making Accessible Travel Better course in "Great Service for Disabled Customers", as recommended by VisitEngland