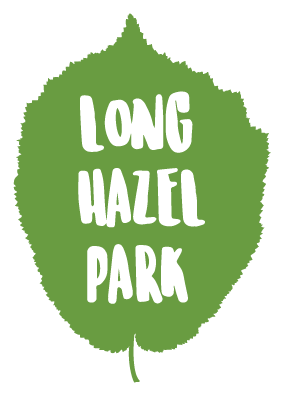 Adult Only Touring Caravan & Camping Park
Self-catering Holiday Lodge Accommodation For hire
Sparkford Somerset
For us, being "green" isn't a new thing; even our logo reflects how running an eco-friendly business is at the centre of our values. There's no greenwashing here!
​
Over our 25 years at Long Hazel Park, we have focused on planting trees. One of our regular choices is the hazelnut tree, which we take our name from. The hazelnut tree is one of the most environmentally friendly trees going and is known to pull a considerably higher amount of carbon from the atmosphere than other trees. It also uses distinctly less water than most other types of trees. Hazel trees filter pollutants from groundwater and survive very well in our clay type soil.
In 2019, we overhauled some of the older pine trees to help reduce the acidity of the grass and improve grass growth. This has worked wonderfully well around the park, with our grass looking greener and healthier than ever! We replaced these with cherry blossom and magnolia trees to help promote wild and bumble bees, which are spotted around the park all year round.
​
Another key feature on our caravan park is our old oak tree, which is around 400-500 years old and has survived a strike by lightening during its life, leading to a particularly interesting shape. The old oak is part of a now defunct woodland in Sparkford village and remains on our caravan park as it is the lightening strike which saved it from being felled to manufacture ancient wooden war boats.
TAKE A GREEN HOLIDAY IN SOMERSET
The oak tree is also known to be one of the best trees for CO2 consumption, where old oaks can absorb an extra 33% of CO2 compared to younger trees. Our old oak has also spread, with the help of our squirrels, with acorns producing a second mature oak tree on site and several saplings. Our oldest trees on site are predicted to capture up to 150 kg of CO2 per year. It is predicted that these younger oaks will capture around 21 kg of CO2 per year. An average fully grown oak tree supports an estimated 2300 species of wildlife.
​
Since 2019, we have worked on filling our planters with plants more suited to tropical weather. This helps to overcome the dryest days in summer in an eco-friendly way and allowed our plants to thrive. We also use palm trees and yukkas around the park to avoid extra water waste. With our lovely warm climate in South Somerset, these plants and trees have thrived and we're now ensuring we overwinter our plants where possible, leading to a greater reduction in plastic waste for new plant purchases.
​
Our plants are primarily watered with rainwater collected in large water butts and we use a special built-in, water saving formula in our hanging baskets to ensure that the highest amount of water is absorbed. We encourage our customers to use any waste water to help water our trees, keep our grass green and hydrate our plants during their stay. In 2021, we added further water butts around the park, including one running off the roof of our new chemical disposal point.
​
In our recent shower block overhaul, we switched to LED lighting throughout and changed over to eco-friendly hand driers to avoid extra paper waste. We have push taps and showers throughout to ensure that taps aren't left running and our showers and washing areas are clad with recycled plastic. Our Altro flooring uses less energy in the production than any other flooring, with a predicted lifespan of 25+ years. We used local tradesmen and suppliers to help with our makeover.
​
In 2019, we also installed environmentally friendly solar panelling across our buildings and our shower block is now successfully run on solar energy. Any energy not used by us on site is fed back to the National Grid. We could never have predicted just how much energy we would generate with our solar panels, with nearly 7000 kWh in our summer quarter of 2021.

We made a change to our Christmas decorations by switching to the greener option of LED bulbs in our recycled Somerset carnival lights. All newly purchased Christmas lights are low energy LED bulbs and run on automatic timers, to ensure that they are only on when needed, to save energy. We also decorate around the park with hand made decorations made from offcuts of trees felled throughout the year and ivy removed from growing trees to give them a better life.

We renovated our Reception area using pallets from a local bulb wholesale business and turned these in to a wonderful coffee table. The chairs in Reception area are ones we inherited with the business, given a sand and polish and the seating cleaned up. The flooring is made from recycled plastic and the photo frames are upcycled.
​
Our Reception houses lots of local information and we have made a conscious effort to display information for Somerset's many attractions to reduce mileage for our customers. We display information for local walks, pubs, farm shops and timetables for public transport. In 2020, we launched our own Online Reception on our website, directing guests to use web links rather than printed paper brochures, which we have found has worked very well in reducing paper waste on site. Not only has our Online Reception assisted with our green credentials, but it has also proven very helpful for our guests with disabilities, as all information can now be accessed from the comfort of your own caravan, motorhome, tent or lodge. We send our Welcome Pack by email to our guests before arrival, along with all the information you could possibly need for your stay with us. This saves around 6 printed sheets of paper per guest.
​
Chickens permitting, we sell our own eggs on site, with their byproducts used as an eco-friendly fertiliser for our plants. We also use our grass cuttings as mulch around the trees and hedges. We use an electric shredder to shred cut branches and garden waste, which is also used to improve the quality of our soil. We manage to cut the majority of our grass lawns with a small electric mower, which is also charged by solar power.

Most of our trees house home made bird boxes, which are produced from offcuts of wood from other major projects around the park. Many of our hedges also house insect hotels to ensure sustainable pollination from wild bees. There are also a number of hedgehog houses hidden away in our hedgerows. We even use recycled tin cans as plant pots! For 2022, we are planning further bird tables and hedgehog houses and will be introducing home-made bat boxes and owl nest boxes to encourage our bat colony living in our old oak tree.
​
We use eco-friendly cleaning products throughout our shower block and lodges. Our custom-scented air fresheners even use natural oils rather than aerosols. Keeping our use of chemicals to a minimum, we also use sand on our grass to work as a weedkiller and coffee granules around our plants as fertiliser.
​
A particularly long-lived feature of our park is the recycling system and we are always over the moon when our guests help reduce, reuse and recycle too. One of the most popular features is our encouragement of guests to leave bread out for the birds, which has encouraged both red and green woodpeckers and goldfinches on site. Our Tourist Board and AA inspections have outlined how proud of our recycling facilities they are over the years!
​
In 2021, we switched to an Online Booking System in an attempt to reduce the amount of waste paper we produce. Teamed with using battery-powered tablets, we no longer need to print out paper records of your stay, or copies of your emails for booking in. By reducing the amount of paper we use, we are saving on average 208kg of CO2 per year. We're also saving around 79kg per year of CO2 by reducing the use of ink cartridges. The battery-powered tablets are estimated to reduce our computer-based carbon emissions by almost 100%.
​
Our Online Booking System requires less emails to be sent to organise bookings, which we estimate saves around 1.1kg of CO2 per day. The Online Booking System brings the added bonus of our guests being able to pay by card, which reduces mileage needed to drive to an ATM and withdraw cash.
​
PUBLIC TRANSPORT, WALKING AND CYCLING
Another great feature of our Park is the proximity to our local Bus Route, which is just 100 yards from our entrance. This regular service offers travel to many nearby market towns and can even connect you to Castle Cary Railway Station, ready for trips further afield to Bath and the coast without needing to drive your car or take your motorhome.
​
We offer a discount for walkers, cyclists and those using public transport to visit us and have done since the beginning of our time running Long Hazel Park, since 1997. Our prices can be found on our Caravan and Camping Park page.
Visit our Dog Walk page to find out some of the best walks in the area, including a walk up to King Arthur's Camelot at Cadbury Castle, just two miles from our site.
Find out about the local bus routes before your stay on South West Coaches' website. Our nearest bus stop is just 100 yards from our entrance on Sparkford High Street.
We've added a new Cycle Routes page with 80+ miles of the best cycle routes around South Somerset and further afield over to Dorset and Wiltshire.
DAVID BELLAMY BLOOMING MARVELLOUS PLEDGE FOR NATURE 2022
We have joined the David Bellamy Blooming Marvellous Pledge for Nature scheme for 2022 to further our commitment to the environment. The award will assist us in four categories in order to preserve and enhance our natural habitat on site and in the surrounding area.
The Special Species challenge focuses on highly endangered animals which need a special helping hand. Surveys of our local area have identified bat populations living alongside our park and so we have chosen to focus on two types of bats for this project.
In 2017 and 2018 a Highways England survey carried out on our land identified a high amount of bat activity. In total, there were 12 species of bats identified living within nearby hedgerows, as well as foraging in the grounds of Hazlegrove school, opposite Long Hazel Park. The bat survey identified our old oak tree as being of high potential to support roosting bats and our Reception loft showed signs of roosting Pipistrelle bats, which are the smallest type of bat, weighing as little as 3 grams. The survey also suggests Brown Long-Eared Bats are present on the park.
We have now sited four bat boxes on site, catering for small and large bats. With signs of 12 species in the area, we are hoping to encourage some of the rarer species to nest on site.
The purpose of the Home Sweet Home challenge is to put up artificial homes around the park for wildlife. Looking at the possibilities around the park, we have chosen to focus on building new bird and owl boxes, bee habitats and hedgehog homes.
We currently have 10 fixed nesting boxes on site and have installed six new bird boxes in 2022. Currently, the park is home to both red and green woodpeckers, bluetits, jays, sparrows and robins. We are also focused on improving our owl habitats this year, particularly as we are aware there are tawny owls living on adjoining land, so this would provide a further home for their young. Tawny owls are only small, around the size of a pigeon, so we intend to put this box in our weeping willow tree. We will also provide an owl box in our large oak trees to encourage barn owls.
We already have several bee hotels and wild bee nests on site, with bumble bees living in the grass area outside of our Reception and wild bees building an ongoing colony alongside our residential lodges. We will be adding an area for bumble bee nests made from old clay plant pots buried in a south facing bank next to our lodges.
Hedgehogs are rapidly declining in the UK, with an estimated 30% having disappeared over the past decade. There are now fewer than one million in the wild. As hedgehogs hibernate between October and March, we will be adding new hedgehog houses in the hedge bordering our tent area, so that they are not disturbed during the winter and have a sheltered spot for their new homes.
The Tree-mendous Challenge will support us in planting more trees around the park. In particular, we will be planting new evergreen hedging, offering Winter shielding for wildlife which is under-represented on site.
​
We have already begun making progress this Spring, clearing way to plant 16 metres of laurel hedging on our driveway. The Spring flowers will help attract bees, whilst the Autumn berries will help feed birds.
​
We will be planting a further 30 metres of evergreen hedging made up of laurel and Western red cedar trees along our boundary to form a new wildlife corridor on the edge of our park.
We will be planting a new Pollinator Patch on site to support bees and insects. We already have a great number of bees living on site, both in our bee hotels hidden in hedgerows and in underground nests outside of our Reception and in amongst our lodges.
​
We intend to plant a mix of wildflower seeds and poppy seeds in a designated area adjoining our residential lodges. We will also be using old plant pots to bury in the bank to create new bee homes.
"Recycling bins were great too; all the options you need to recycle properly."
- Ruth Evans, August 2021
"Very clean and tidy. Very friendly owner. Recycling bins well labelled and cleaned daily."
- Dawn Britten, July 2021
"Cleanest recycling area we've ever seen including at home. We'll be back."
- Piers and Elaine Oliphant, May 2021
"The first time I stayed was 4 years ago - I was so impressed with the whole site.
The whole family are involved and make you feel so welcome - its like staying in a friends rather beautiful back garden. Their whole ethos towards recycling, green energy, planting of many many trees and shrubs, planting for the wild life, building a safe habitat for hedgehogs is an amazing achievement, of which they should be very proud.
I have stayed many times enjoying the peace and quiet and old fashioned hospitality..... BLISS..... Very many thanks."
-Kayt Pile, April 2022
ENVIRONMENTAL ACHIEVEMENT
We are pleased to have won a Silver Award in the Bristol, Bath and Somerset Tourism Awards 2021/22 in the Ethical, Responsible and Sustainable category. The award covers a range of our on-site activities, including everything from recycling; wildlife habitats; tree planting; saving water; accessible accommodation and facilities; our efforts working with local businesses and in the community and Covid safety.
​
Our feedback from the Bristol, Bath and Somerset Tourism Awards 2021/22:
​
"Long Hazel Park looks like a lovely place to stay, and clearly has a good green ethos and some very good elements.
The green content was very easy to find, and this site really said "We are proud of our green credentials."
I particularly liked:
- the way you give distances from your local walks
- that you mentioned the bus. Too often the option of public transport is overlooked.
- your information about hazel trees. It's so good to know the why, as well as what has been done.
There's a strong sense of championing the local. Putting in local leaflets is a commendable action, as is encouraging local deliveries at timed slots. The Covid secure operations must give much reassurance to the customers. One thoughtful highlight was that one of the basins had a shower curtain which gave much more privacy - the owner had noticed that there were some visitors from ethnic minorities who wished for more privacy.
The three acre site is beautifully kept with space for tents, motor homes and caravans. There are also lodges which are owned or for rent. Plants, hedging and trees are kept immaculately, with bird boxes on every tree."
​
As part of our Platinum Jubilee celebrations, we have joined in with the Queen's Green Canopy tree planting.
​
We enlisted the help of the Somerset Rural Life Museum in Glastonbury to assist us in planting a very special apple tree on site. Our idea for this tree was to celebrate Somerset's cider heritage in our planting and we sought assistance with finding the most local heritage variety possible.
The Rural Life Museum kindly put us in touch with a cider apple expert, who advised that the "Harry Masters" variety was the closest to Sparkford, developed by a farmer in Yarlington (5 miles). The Harry Masters tree is used in mixed varieties of cider and dates back to the late 1800s.
​
Finding the best possible apple tree for the occasion led us to a small, specialist cider apple farm, just on the cusp of Sparkford and Sandford Orcas. We were particularly pleased to find a small, local supplier, with the tree grown in Somerset to reduce emissions along the way. Our commitment to engaging with the local community and eco-friendliness was awarded a Silver Award in the Bristol, Bath and Somerset Tourism Awards 2021/22, which also reflected our commitment to tree planting.
​
Our tree is now proudly displayed on the Queen's Green Canopy map and will form an integral part of our camping landscape in the years to come. It will also feature in our David Bellamy Pledge for Nature 2022, as part of the Tree-Mendous Challenge.
Our next step in our green journey is to quantify our work on the environment and work out how close we are to achieving Net Zero as a business. We have already started to make great progress in 2022.
We currently run three solar panel systems on site, which produce almost 8,000 kWh of electricity per year. In total, this saves almost 2 tons of CO2 annually.
We carried out an on site tree audit in April 2022 and counted a total of 1702 trees on site. Taking in to consideration the maturity of the trees, we predict that the amount of carbon absorbed by these equates to just over 33 tons per year.
We are hoping to install further solar panels to assist with energy supply.
ECO-FRIENDLY COURSES IN SOMERSET